Are We In A Buyers Market Or Sellers Market
Are We In a Buyers Market or Sellers Market?
As we all know, 2016 was a rough year for some folks in upstream energy. With thousands of Houston area layoffs at many of the oil companies, this energy town was hit pretty hard last year. My husband works in upstream energy. He drives through neighborhoods and sees the For Sale signs lingering in yards and figures it's the result of a stagnant, depressed housing market. He's not alone - I get asked all the time "what's going on in the market?" And that's understandable - there are concerns about how the oil & gas downturn has affected home values in our area.
As a real estate industry insider, I know that the perception that the market is "bad" isn't the case at all. (I could go into why For Sale signs are lingering in some yards, but that's a blog post for another time.) It's my business to stay on top of the sales data neighborhood by neighborhood and continually refresh that information. Here's some cold hard data from TAMU and the Greater Houston Partnership. Let's bust some myths.
Myth #1 - Home values have tanked
I have to ask - compared to what? This one has a lot to do with 2014 and the Exxon Mobil build out that brought 10,000 energy sector jobs to the area. We experienced a temporary spike in what homes would sell for based on a temporary spike in demand in 2014. That was not a normal year but it has become the baseline of expectation for some who saw our home values temporarily spike in 2014. As the graphs below illustrate, the community that saw the greatest price and units-sold boom in 2014 was The Woodlands ... however, even with the 2014 spike, numbers of homes sold annually are trending higher now than in 2014 and prices are only down on average 5% from 2014 - the freakishly high year. Repeat after me: home values have not tanked: Home sellers are still getting excellent prices on their homes right now.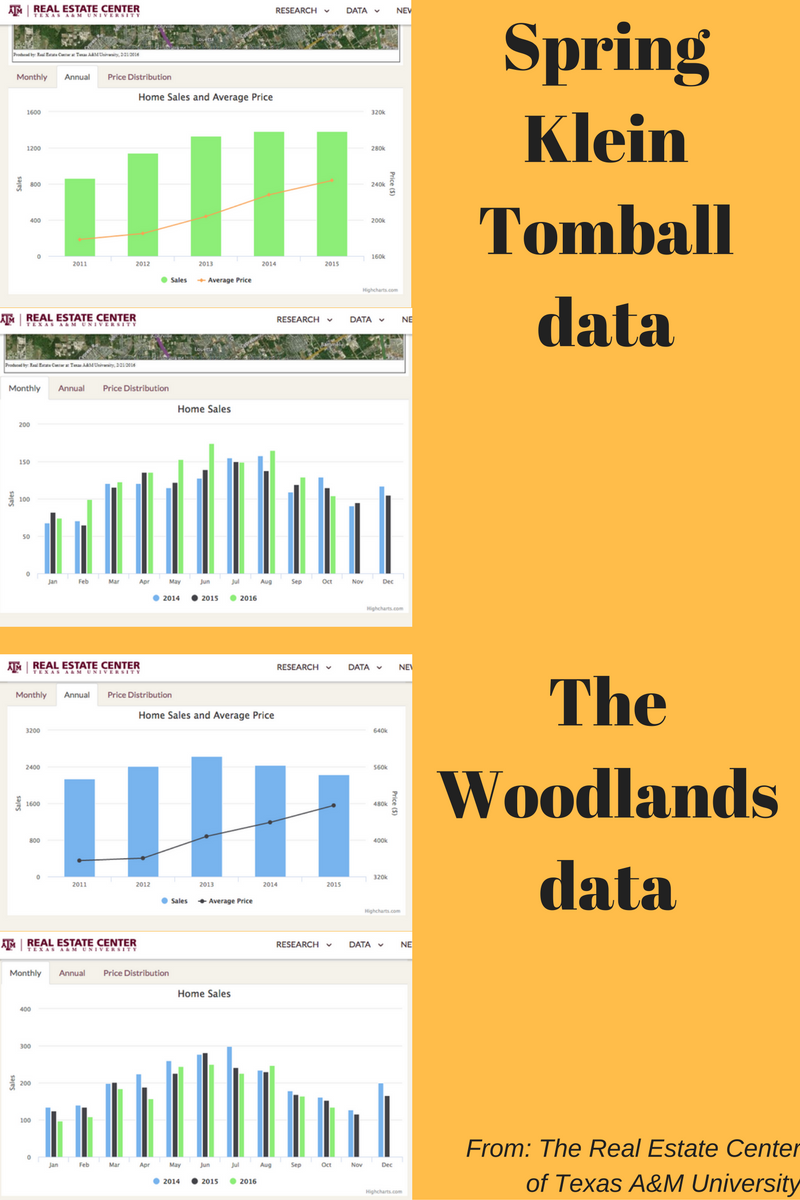 Myth #2 - It's not a "Seller's Market" right now; I should wait.
A seller's market occurs when you can sell your house at market value, in a reasonable amount of time, to a qualified buyer. We call that amount of time the absorption rate and anything under 6 months is still good for sellers. According to TAMU, the absorption rate is 3.5 months in Spring/Klein/Tomball and 5.0 months in The Woodlands. Median sold price has a great deal to do with absorption rate; median sold pricein The Woodlands is in the $400s, in Spring/Klein/Tomball in the $200s. To ensure you get the best price in the shortest amount of time, it is essential that sellers engage the services of a Realtor skilled in negotiation.
Historically low interest rates are driving a lot of the buying activity right now, but that's expected to change further into 2017. When rates are low, buyers can afford more house month to month. Most economic forecasts indicate that we'll be seeing these low rates creep up over time in the months to come which will sideline some buyers.
Thinking about selling? Use this tool to receive a no obligation market analysis - click here.
Myth #3 - If it's not a Buyer's Market, I should wait.



If I had a buzzer, I would buzz it right now. Wrong answer. First, average rents for our area exceed $1400/month for a typical 3 bedroom, 2 bathroom home. Renters, instead of paying their own mortgage, building and building their own equity and assets, are doing this for your landlord. For the same amount of money as you're throwin away in rent - and sometimes less - you can buy a house and begin building your own nest egg. Even if you like your landlord, you don't want to pay his mortgage when you can just as easily pay your own. It's easy to get started and you don't need perfect or even good credit to qualify. Get in touch and I'll walk you through the process in a free one-hour, no-obligation consultation - click here.
Thinking about buying? Find out how much house you can afford now while rates are low - click here.
Author:
Traci Fowler
Phone:
832-540-6767
Dated:
January 5th 2017
Views:
1,259
About Traci: ...